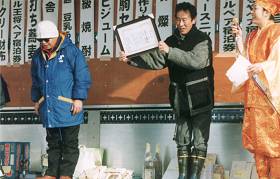 Torobeko Jiru, the title of most popular
The title for the most popular pot food "Nabe no Tsubone", it was also given to "Torobeko Jiru" next to last year. The way hot to vote was changed, too. It was just a popularity vote still last year. But this year, voter added services of staffs to a condition of vote. Even it, there seems to have been much number of vote.
For a while, their popularity may continue "Dongara of north and Torobeko of south" at this event "Heisei Nabe Gassen". We want other group to try hard by all means.