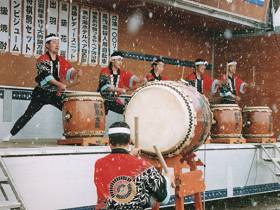 Performance of "Myoken Daiko" in snow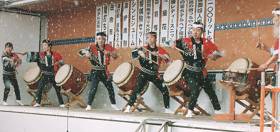 In order to enliven the "Heisei Nabe Gassen", they planned 3 attractions this time. At first one of folk entertainment in Tendo "Myoken Daiko" was performed.
Attractions have been changed every year for trial and error. But I thought that a Japanese drum was just good. because it enlivened pure Japanese style event "Gassen" (battle).
Unfortunately, when a performance began, it has much snow. It was the terrible situation for not only performers but also visiters. Naturally an outdoor event is controlled by weather. But I was very disappointed really.