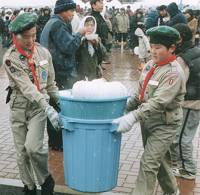 The boy scouts put trash in order
It is not limited to an event, are there stagehands by all means? At the "Heisei Nabe Gassen", boy scouts in Tendo helped them. They gathered leftovers of visiters and plastic bowls which they have finished to use every year. But it seemed to be very hard work because they worked in snow this year. It is role of a stagehand, but I should introduce them even at the closing ceremony.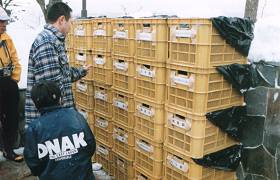 Voting place of popular cooking
This year, a polling place for a popular cooking title "Nabe no Tsubone" was also moved at the entrance of an event place. I thought that they were going to keep an event place as possible. Or they would have visitors carry a foot to the first market. At all events, I tought that the layout of event place was a great success this year.
There seems to be a design that they use an open space at the Kuwanomachi that development progresses in the south side of Tendo Onsen (hot spring) next year. I want them to inherit such know-how even if an event place will be changed.