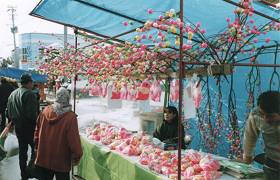 the shop which they sell gorgeous dumpling trees
At the first market in Tendo, many variety of shops are open, woodworks of cutting boards, vegetables of winter (ex. Chinese cabbage, a Japanese radish) to turn into a pickle and a branch of food (chow mein, vegetable pancakes, etc.). It is a characteristic that they sell daily necessities, the thing which is very close in life.
But, speaking of the first market, it is still "a dumpling tree"(Dangogi). That a shop handling a dumpling tree stands in line in a street of the first market, it looks very brilliant and we become with a light heart.