The champion team of last time, The Chamber of Commerce and Industry of Sakata, they entered after the "Tendo-han Ishin-gungaku-tai". And they returned a championship "POT" to the representative of an organizer. At last, the 6th festival of "Heisei Nabe Gassen" would was started.
This time, does team of Sakata also get the championship title? Or does team of Yonezawa of the second place last time get the title? OR dose a new team get the title?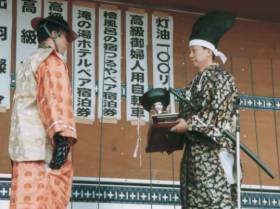 Return of a championship "POT"