"Kujira Nabe"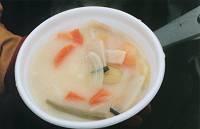 Larger Picture...(17KB)
"Kujira Nabe" (Cooperative society of fishmonger in Yamagata)

300 yen per a bowl.
They took part in this event from this year. They usually move into action in Tokyo and offered participation. They cook adductor muscles, it is like a Chinese cooking. It is the pot cooking of meat of a whale which became old good taste now. They decided a fee of their cooking just after watching other groups because it is a first time to participate in this event.