"Chupe"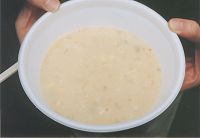 (a picture at the 5th festival.)
Peru "Chupe" (International Exchange Association in Tendo)

300 yen per a bowl.
They took part in this event from the 5th festival in 2000. It is like a cream chowder, they boil lobsters, crabs, rice and Japanese konnyaku for a long time with milk and cream.