Other Area (4 kinds)
"Date Nabe" (pot cooking of chicken and vegetables)
[YEG in Nakaniida, Miyagi Pref.]

400 yen per a bowl
There are chicken and many variety of vegetables, Chinese cabbage, Japanese radish, carrot, leek and burdock. There is also Japanese "suitonquot;(flour dumplings boiled in soup), this cooking has rich contents.
Date Nabe (Nakaniida)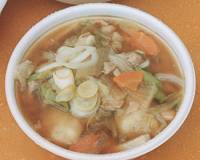 Larger Picture...(21KB)