"Ishin Gungakutai"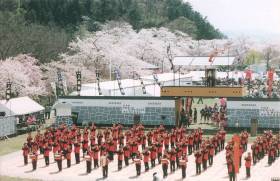 Larger Picture...(52KB)
At about 1:30 p.m., they finished the game once and held a mini event(quiz) about their next turn. It is the first time to hold. This was a quiz for visitors to answer their next first turn, they presented special products of Tendo for correct answer persons who selected by a lottery.
And they held a performance of Japanese traditional drums "Wadaiko Gassen"(the battle of drums) in an interval of game. At first, students of "Tendo Nanbu" elementary school beat "Ishin Gungakutai"(military band in 19C).