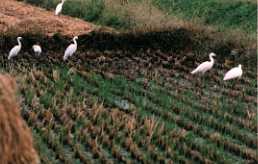 Every year many swans come to Sakata city, the mouth of the Mogami river. The Mogami river runs throuth Yamagata prefecture.

Swans come not only Sakata but also Tendo. They stays river side, rice fields, etc.

They says that the first swans come this year on the TV news. I go to the rice fields and find out white birds ! But they are herons.