Mt. Gassan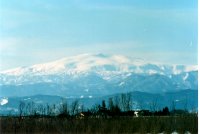 Larger Picture...(38KB)
Tendo city is located at the north of Yamagata city, priciple of Yamagata Prefecture.
Around this area, we call "Murayama" area.

Tendo city is located between 2 big mountains, Mt.Zao and Mt.Gassan. They call "Murayama Bonchi" (the basin aroound murayama area).

The Mt.Zao is the east of Tendo city.
And the Mt.Gassan is the west.