Traffic Regulation Map(Summer Festival in Tendo)


(Last update : July 30, 2000)
---
They regulate traffic around the city hall from the evening to the night during the Summer Festival in Tendo. Please be careful with parking space when you will come by car to a summer festival, a shop of a town area.
They control below duirng the summer festival
(Every year same regulation without relation on a date)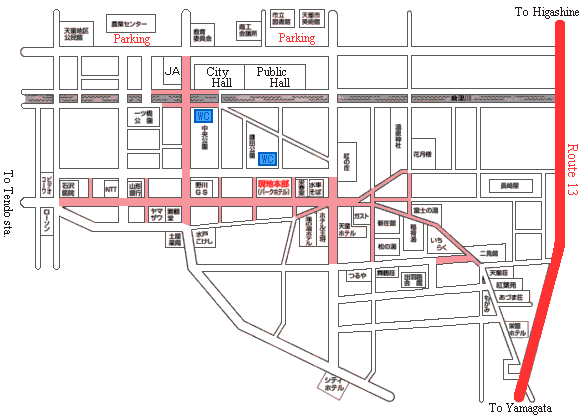 You cannot drive the road colored pink
from 5:50p.m. to 9:30p.m. on August 8 and 9.
< Parking Area for Tourists >

Tendo Agriculture center (Next to the Welfare center in Tendo)
City Library (North of City Office)
City Museum (North of City Office)
( There is no space enough to park many many cars. You should come by public transportation, bus, train, etc.)
---

"Summer Festival in Tendo"
---
This web site is produced by one maniac for "Tendo". Please feel free to link our site.
Copyright(C), 1997-2009 Tetsuya TAKAHASHI and "Ikechang"
Please use a feed back when you have a question, opinion, etc.